---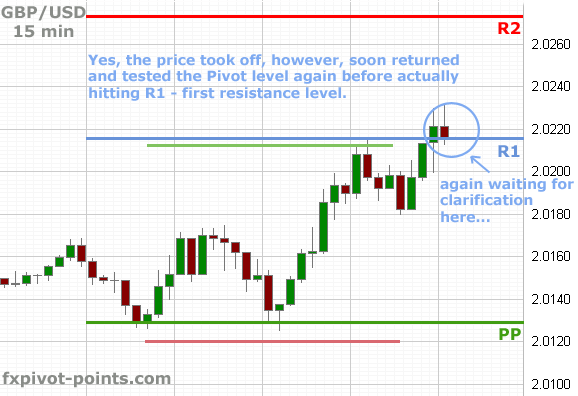 In general a trading area around R1, S1 and Pivot Point itself is the easiest and most predictable area to trade in.
As we know from the theory once a level of support is broken it becomes a level of resistance. Same for resistance, once broken — becomes support.
So, here come other Pivot levels such as S2 and R2.
Let's take an uptrend. When the price starts to move up from the Pivot Point it aims at R1 level first. There the price usually meets a strong resistance which it needs to overcome before it can move any further.
Once above R1, what is the next target? The next is R2. While aiming at R2, the price will have R1 level as its strong support now. It may or may not come back one more time to test R1 level before moving further up.
While holding a position, it is a common rule: if the price didn't "see" the first support / resistance, e.g. goes quickly through it without noticing / stopping, do not exit the trade, set your profit target at R2 because the market shows strength and is capable to push the price further to the next level. Typically, R2 becomes the highest point of the trading day.
However, R2 and S2 are not the ceiling for the price to stop at. During well trending market periods the price can move past those levels with no troubles at all.
If the market opens or trades at the extremes R2 or S2, the price will show a tendency to trade back toward the Pivot Point or even stop and go sideways. Try to avoid buying at R2 or selling at S2.
A general rule for Pivot point trading can be set as:
The further the price moves away from a daily Pivot Point the lesser should be attempts to enter the market. Try catching the market when it is close to the Pivot Point in the beginning of the day; and if came late, avoid entering for the current day.
That's basically the way how traders use Pivot points in Forex trading.
Although it sounds quite simple it requires a lot of attention and patience as well as mastering the technique of Pivot point trading.
Would you like to find out what happened later on the chart where we waited for clarification last time?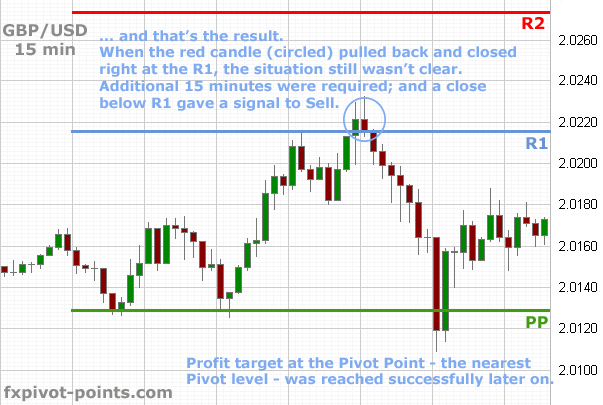 That day was very good, we made some healthy profits.
But, it is important to remember that although Pivots are so remarkably helpful, there is always risk involved and not all 100% of trades turn out profitable. Using stops to protect your capital is a very wise choice and taking losses when went wrong is an everyday trading routine. Being truly realistic about Forex trading is a huge step forward.

To your trading success!
Jeff Boyd
Copyright © Jeff Boyd Authors & Publishers
---