---
How do we pick entries with Pivot Points?
Let's look at the next picture: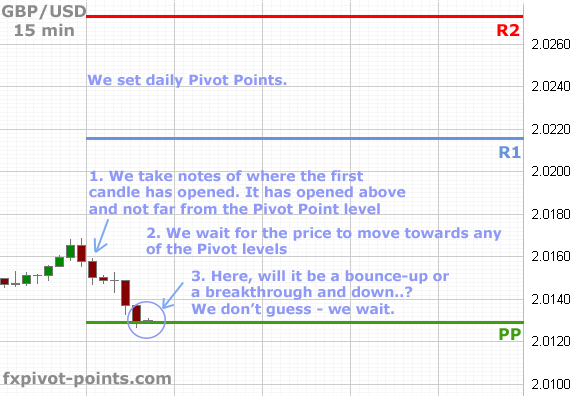 We have daily Pivots on 15 minutes chart. We wait for a pull back towards any of the closest Pivot levels, or, usually, towards the Pivot Point level. In this case Pivot Point level acts as a support.
We don't enter on the touch of the Pivot Point line. Why? Because we remember that the price do breaks through support / resistance levels, otherwise it would move constantly in one direction. So, instead of "jumping in fire", we wait.
Remember, before we actually see the price bouncing off the Pivot Point level, we can only expect it to do so. An expectation is not a good reason for entry. We need to see the price touching, stopping and then reversing. That's what we wait for. Another 15 minutes goes by and the situation clears: once we see a U-turn we enter!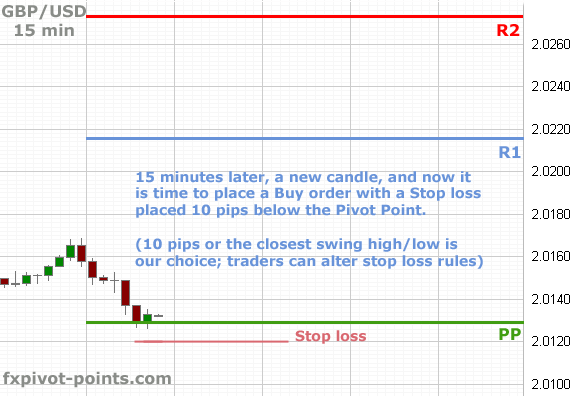 Once the price has chosen a direction and we are in the trade, the first target is going to be the first level of support (downtrend) / resistance (in uptrend). What does that mean for us? It means that when opening a position around the Pivot Point the first profit target can be set to R1 or S1 level regarding the price direction. The guarantee that the market will reach that first level is very-very high. It does reach those first levels almost 95% of the time! You will be amazed how simple those quick profits are.
---