---
Pivot Point Terminology
Before we speak about how to calculate and use Pivot point levels, let's define a few terms we will be using here:
PIVOT POINT is the point where the market reverses. It is a turning point. If the market is trading above Pivot Point it is considered to be a bull market (buyers are dominant), once it goes below the Pivot Point — it becomes a bear market (sellers are dominant).
RESISTANCE is a high point in the market where buyers meet strong opposition of sellers. A rising market reaching resistance has big potential of falling back down.
SUPPORT is a low point in the market where sellers meet strong opposition of buyers. A falling price reaching support has a big chance of climbing back up.
Support and resistance levels are difficult to break through, but they do fail, otherwise the price would be all the time going in one direction only...
There is a rule that once a support or resistance level is broken it becomes the opposite force: a broken support will become a resistance, and a broken resistance serves as a future support.
Let's look at the picture to see how it works: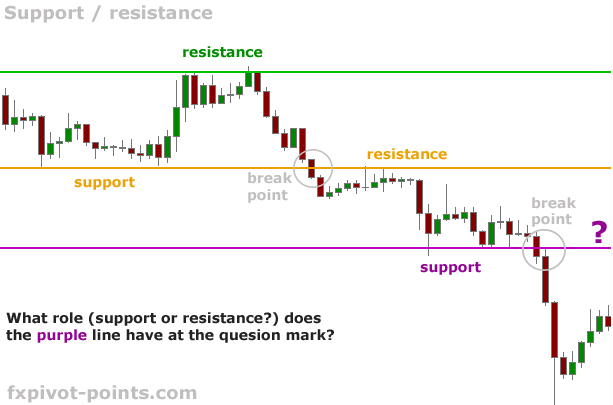 Pivot point trading emphasizes on the importance of such support and resistance levels and its theory is based solely around those levels.
---